Announcing the launch of a bidirectional TVSs which reduce package size by 30%~Contributes to downsizing of ECU protective circuits for vehicle applications~
Announcing the launch of a bidirectional TVSs which reduce package size by 30%
~Contributes to downsizing of ECU protective circuits for vehicle applications~
Oct. 25, 2023
Shindengen Electric Manufacturing Co., Ltd. has developed and begun shipping samples of the "DL20B Series" bidirectional TVSs.
In recent years, increasing functionality and complexity of vehicle application ECUs has led to an increase in energy consumption. In the past, reverse connection protection elements for ECU protection used general rectifying diodes, however recently the trend has shifted towards circuit configurations which use Schottky barrier diodes, MOSFET, ideal diodes, etc. to achieve higher efficiency. Demand for bidirectional TVSs, which can absorb positive and negative surges with a single element, is growing for these type of circuit configurations for surge protection and dissipation loss reasons. In these cases, significant space restrictions due to an increase number of ECUs in vehicle applications has led to more demand for compact bidirectional TVSs.
Shindengen has launched the DL20B Series bidirectional TVSs in response to these needs. Compared to equivalent products from other companies, this series has a 30% reduced package size which contributes to device downsizing and space saving.
Shindengen also offers a wide withstand voltage lineup, to allow customers to select products suited to the standards required for their particular applications. In addition, because these products use the same package as conventional uni-directional TVSs, there is no need to change board patterns, allowing for more flexibility in design.
---
■ Features
The package size is reduced by about 30%【Fig.1】


Package size reduced 30% compared to the conventional equivalent competitor products, contributing to product downsizing.

Utilizes a gull-wing structure for both anode and cathode terminals.【Fig.2】


Alleviates substrate stress while plating of the terminal tip provides higher reliability.

Uses the same package as uni-directional TVSs


No need to change board patterns when switching from uni-directional TVSs to bidirectional TVSs due to circuit changes

Wide withstand voltage lineup available


You can select products suited to required standards from a wide range of 23V to 27V withstand voltage
Fig.1
The package size is reduced by about 30%.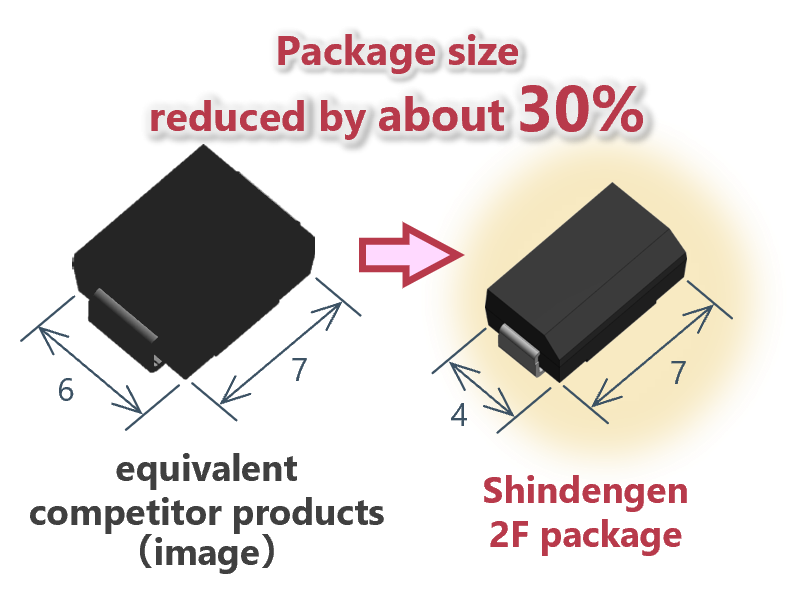 Fig.2
Utilizes a gull-wing structure for both terminals.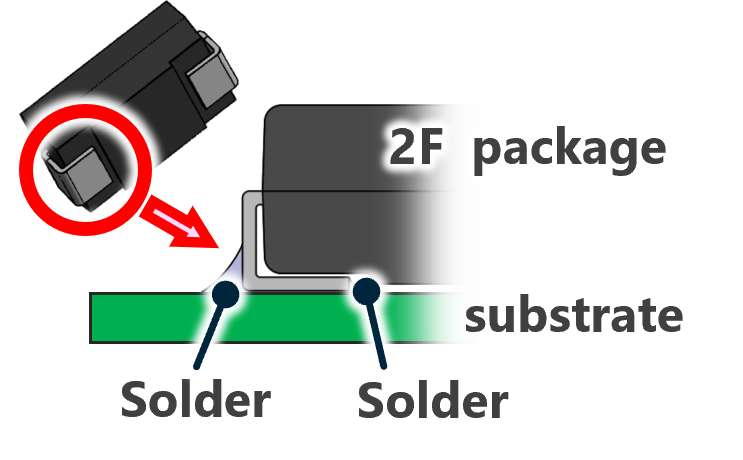 ---
■ Typical Applications
・vehicle application ECUs Overvoltage Surge Countermeasures(ISO7637-2)

■Product Specifications

Part Name
Absolute Maximum Ratings
Electrical Characteristics
AEC-Q101
PRSM [W]
Tstg [°C]
Tj [°C]
VRM [V]
VBRmin. [V]
VBRmax. [V]
IR max. [uA]
DL20B-27F2
2000
-55~175
175
23
25.0
29.0
5
〇
DL20B-30F2
2000
-55~175
175
24
28.0
32.0
5
〇
DL20B-33F2
2000
-55~175
175
25
31.0
35.0
5
〇
DL20B-36F2
2000
-55~175
175
27
34.0
38.0
5
〇
---
■ Availability
Around December 2023.
■ Factory Location
Akita Shindengen, Co., Ltd. etc.
---
■ Contact information
* The contents revised as of October 31, 2023.
Please note that the information contained in releases is current as of the date of press announcement, but may be subject to change without prior notice.