800V TRIAC with improved on-state voltage characteristics launched~Contributing to both stable supply and reduction of device power consumption~
800V TRIAC with improved on-state voltage characteristics launched
~Contributing to both stable supply and reduction of device power consumption~
Aug. 23, 2023
Shindengen Electric Manufacturing Co., Ltd. has launched the KDSF80 Series 800V TRIACs aimed at the Japanese, European, and Chinese markets.
TRIACs directly switch alternating current ON and OFF and are vital components for consumer electronics, OA devices, and more. Even compared to other power semiconductors, suppliers for this group of products are particularly limited, so there are concerns in the industry regarding reliability and supply. In addition, a variety of issues; such as the current sharp increases in electricity costs, and initiatives aimed at achieving carbon neutrality; have increased demand for devices with lower power consumption, and there is demand for TRIACs with extremely low on-state voltage for devices which require large current in particular.
Shindengen has launched the KDSF80 Series 800V TRIACs in response to these needs. These products are 800V withstand voltage products which are compatible with the 200V input voltage devices required in Japan, Europe, and China. Compared with similar products from competing companies, these products achieve high efficiency, reducing on-state voltage characteristics in large current ranges by 7%*, and thereby contributing to decreased power consumption for devices. In addition, Shindengen has a proven track record for both product quality and supply of our in-house produced products, which allows us to provide a stable supply of products.
※According to internal study
---
■ Features
Improved on-state voltage[Fig.1]
7% reduction in large current ranges compared to similar products from competing companies.※。
Utilizes full mold packages


This eliminates the need for insulation measures and makes it possible to reduce the number of mounting processes.

Tj = 150°C guaranteed


Reduced risk of runaway and suitable for use in a wide range of applications.

Other features
Stable surge on-state current capability
Pb free terminals
RoHS compliant

※According to internal study
[Fig.1] On-state voltage comparison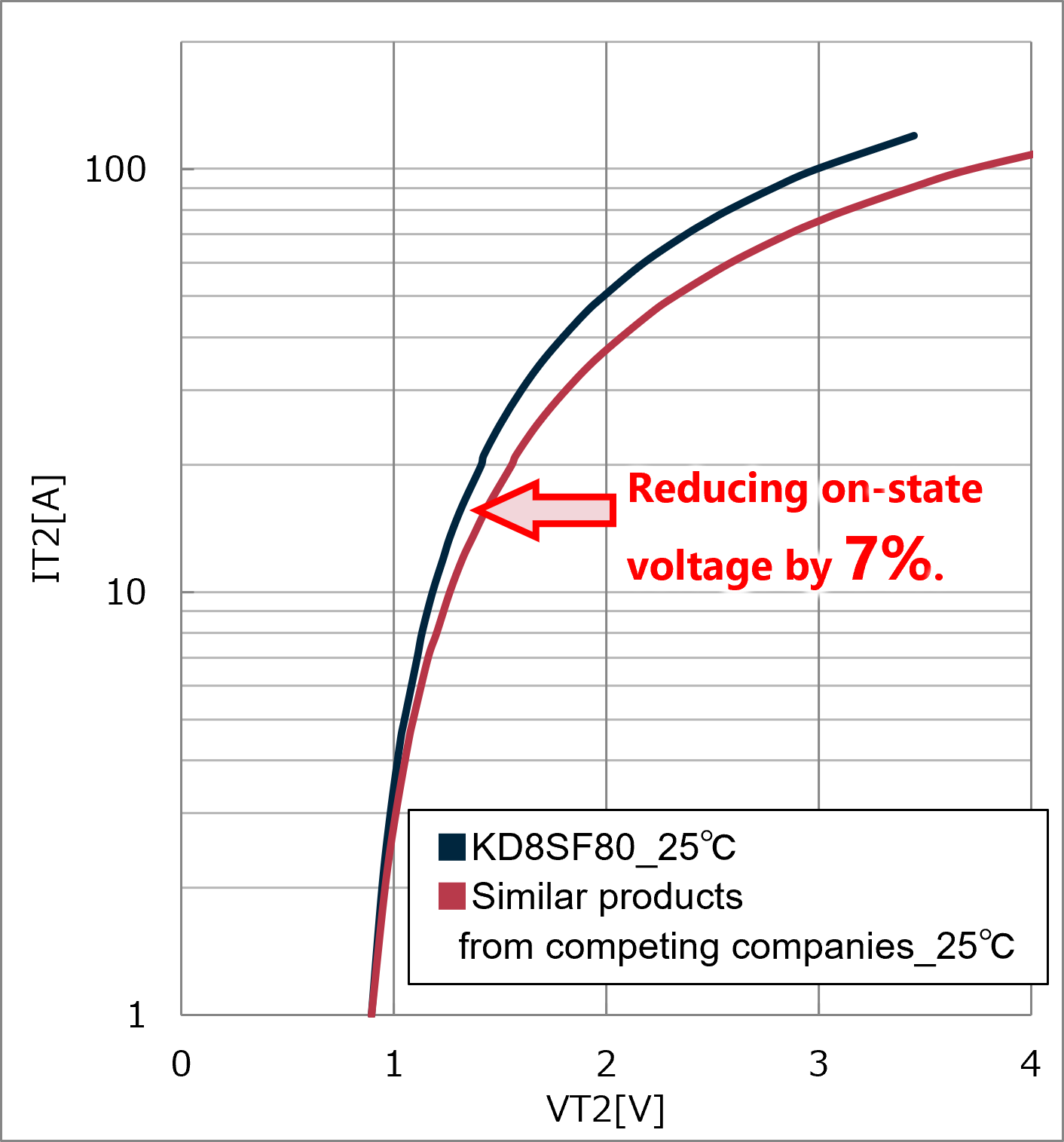 ---
■ Typical Applications
・AC control (heater and motor phase control)
・Consumer appliances (vacuum cleaners, washing machines, electric pods, etc.)
・OA equipment (printers, MFPs, etc.)
---
■Availability
September 2023.
■Factory Location
Lumphun Shindengen Co., Ltd. (Thailand) etc.
---
■ Contact information
Please note that the information contained in releases is current as of the date of press announcement, but may be subject to change without prior notice.