Value Creation


Electronic Device
Segment Overview
One of the biggest strengths of this segment is its extensive lineup of power semiconductors used in high-voltage and high-current controls. These devices are increasingly important as power usage increases, reflecting electrification in the automobile market and the growing use of robotics in the industrial machinery market. Diodes, one of our mainstay products, are used in power supply for automobile components, industrial machinery and consumer electronics. MOSFETs, a type of switching device, are used in automobile components and consumer electronics, as well as in motorcycle ECUs in the Car Electronics segment. We also supply power modules for industrial machinery and automobiles, power ICs (integrated circuits) for lighting and automobiles, and other high-performance products.
Percentage of total net sales (Fiscal 2021)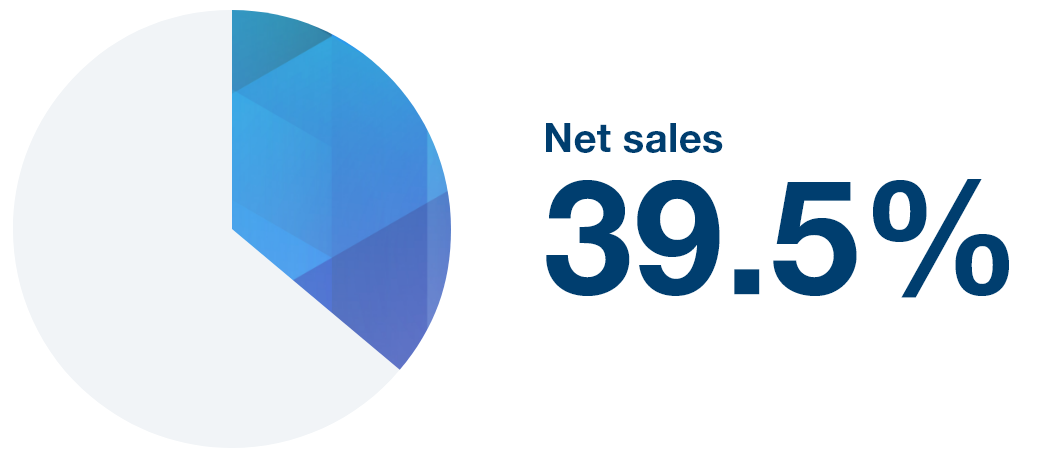 R&D
In diodes, we advanced the development of an elemental technology for new diode structures and continued cost reduction efforts, such as adopting larger wafer sizes.
In thyristors, we advanced the development of high-voltage products using a proprietary structure.
In MOSFET products, we developed low-noise Nch medium-voltage MOSFETs using a proprietary structure and advanced the development of high voltage 1,200 V products. We also completed development of Pch low-voltage MOSFETs, from which we are now developing a series of products. In packaging, we completed the development of surface-mount packaging that offers size reduction, higher current and higher quality.
In power modules, we completed the development of custom modules for electrified vehicles using proprietary high-performance chips developed in-house. In addition, we developed high-current and high-frequency SiC and GaN chip modules.
In IC products, we completed the development of ICs mainly for the mobility market. Leveraging our circuit design technologies, these products are competitive in terms of functionality, quality and cost.
* SiC stands for silicon carbide, and GaN stands for gallium nitride. Both are next-generation power semiconductor materials.
Capital Investment
Segment capital investment went mainly toward expanding production capacity and upgrades at Akita Shindengen Co., Ltd., Higashine Shindengen Co., Ltd. and Lumphun Shindengen Co., Ltd.
R&D and Capital Investment (Millions of Yen)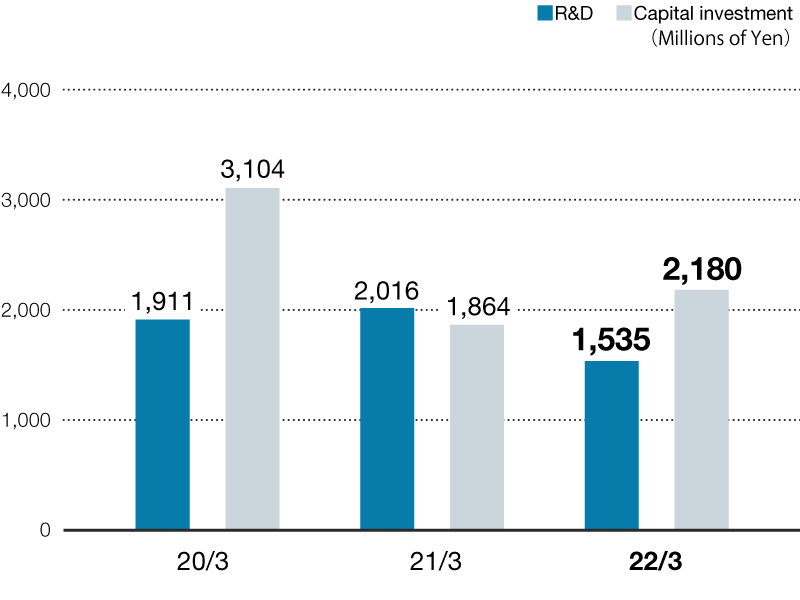 Review of the 15th Medium Term Business Plan
Under the 15th Medium Term Business Plan, we positioned power modules as a growth driver, with the automobile and industrial machinery markets as key target markets. Due especially to stagnant orders in the automobile market, we were unable to meet the plan's targets in this area. However, Shindengen's power modules are used in ECUs for motorcycles and four-wheel vehicles produced by the Car Electronics segment. By focusing on these as key parts, we expect to create new added value and significantly expand sales going forward.
The 15th Medium Term Business Plan was launched in April 2019. During its span, many countries imposed lockdowns as part of measures to control the spread of COVID-19. The lockdowns curtailed some economic activities, which in turn led to a sharp downturn in the markets for this segment's products. Amid such market conditions, Shindengen decisively implemented structural reforms. Despite rapid market recovery in the latter half of 2020, the segment did not meet its net sales target for the final year of the plan due to the significant impact of new product shortages and limits on production capacity.
The 16th Medium Term Business Plan
Opportunities and Risks in the Electronic Device Business
Opportunities

Rapidly growing demand for power semiconductors for automobiles and industrial machinery with increasing functionality and global semiconductor shortages
Growing demand for facility expansion and efficiency improvements at data centers requiring ever-increasing data volumes and processing capacity

Risks

Component procurement difficulties and price increases caused by tight supply of power devices
Damage to global supply chains as well as fuel and component procurement difficulties and price increases caused by Russia's invasion of Ukraine and China's zero-COVID policy
Electronic Device Business Strategy
1. Earnings structure construction
Reduce product costs at the development stage:

Minimize costs by such means as increasing wafer and lead frame sizes and utilizing OEM production.

Reduce product costs at the production stage:

Rationalize visual inspection processes, mainly with automation, and use robotics in manufacturing processes to improve productivity.

Reduce product costs through management:

Promote digital transformation (DX) in production management and process management.
2. Building a foundation for expansion of growth businesses
Quickly release low-loss, high-current, high-voltage products:

Reinforce the development of low on-resistance (low-Ron), low-noise MOSFETs and low-VF diodes, and expand the medium- to high-voltage product lineup.

Develop unique elemental technologies and utilize them in product development:

Expand the lineup of general-use power module products using full clip connections, multi-connections and stack connections for connecting substrates and devices, as well as substrate-less technologies for mounting devices directly on cases.

Develop products using next-generation devices:

Advance SiC-SBD and SiC-MOSFET development, as well as product development using proprietary module technologies.
3. Focusing resources on product groups that can reduce greenhouse gas emissions
Commercialize low-loss, compact and other products that contribute to electrification:

Develop low-loss, compact chips and eco-friendly technologies made with compact packaging and compact modules.

Reduce energy used by production facilities and factories:

Advance upgrades to high-efficiency utility equipment and promote initiatives to reduce energy consumed by air conditioners at overseas factories.